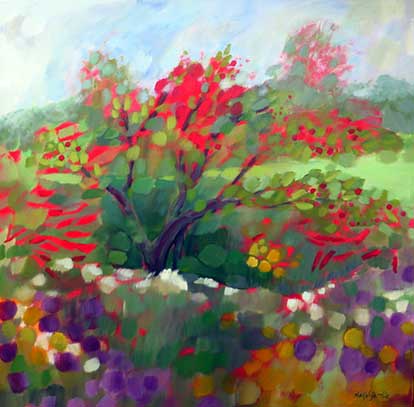 Of wild apples and sumac and flower fields, acrylic by Marjolijn Thie,
Chelsea Wakefield Studio Tour.

Artists in the countryside remind us of our place in nature. They reflect the qualities of countryside we love, using many mediums: shades of earth and sky inspire pottery glazes and glass works, flower hues glow in weaver's yarns, painting and photography give us images where the heart dwells. Landscapes with human activity may comfort us with signs of things familiar and tamed. Or they may show us ourselves, like fragile deer in towering forests, as small creatures amidst vastness. Landscapes without signs of man bring us to that ultimate uncharted territory, where nature is informed through spirit.
The talents and styles of our many artists are represented in The Country Connection Magazine, simply click one of the links below for the listings of your choice.



Info for Artists
The listings on the arts pages are updated as information arrives. Studio tours, exhibitions, art events and arts festivals wishing to be listed, please go to our advertising ratecard for more information.