A Picture Worth a Thousand Words
by Patti Desjardins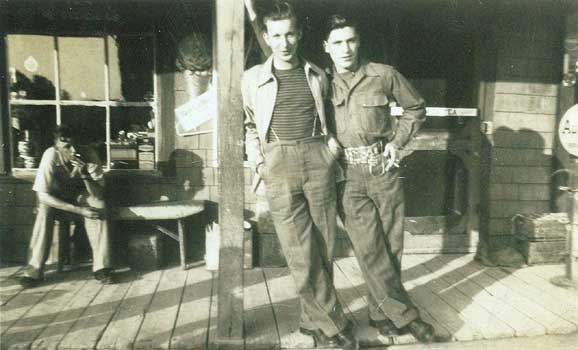 Young men on the verandah of the general store in Westmeath, Ontario, 1946.
My mother has taken one, really good, photograph in her life. She was twelve-years-old when she snapped three men on the veranda of her family's general store in the small village of Westmeath, Ontario. It was 1946 and her subjects were two friends who had recently returned from service overseas. It is well-composed with them centred in the foreground, an interesting backdrop of a third man, and quintessential store paraphernalia such as advertising signs and a screen door. The original black and white photo is small, about 2 x 3 inches, but it is a picture worth a thousand words.
According to my mother, the men are: Willis Hughes against the post, Paul Gervais leaning against him, and Kazoo Vizena on the bench. The subjects were relaxed because the photographer was a mere girl. If my grandfather had taken the picture, they may have stood straighter with their shoulders squared. If any one of my mother's three older sisters had snapped it, they may have been cockier. But my mother was a little girl, a fixture around the shop, perhaps a wee pest. Her engagement with the two young men is not even interesting enough to divert the third man's attention from something farther up the street. The best thing about the photo is how my mother captured them: at ease, their bodies touching, their legs a perfect sweep. Their stance reflects the brotherhood and camaraderie of soldiers; even their shadows on the shop wall behind evince it. If you look closely, you can see a medal hanging from Paul Gervais' belt. I wonder if he took it from an enemy soldier, or if it was merely some of the jetsam and flotsam of war, traded for cigarettes.
Both young men left Westmeath soon after. There wasn't enough work for all of the returning soldiers in such a small community and many had the wanderlust mentioned in the tune "How you gonna keep them down on the farm after they've seen Paree." Some made friendships and connections with men from other parts of Canada which lead to employment and business opportunities, others sought adventure, and still others craved only tranquility. Willis left for a job up north and Paul headed to the Montreal area, but both stayed in touch with friends and family in the village.
The chap in the background is one of those village dawdlers, always parked on a bench or an overturned crate in a general store or gas station. Nowadays people may linger over their lottery tickets at a store counter, but back then, some men spent entire days at my grandparents' shop, especially on Sundays. Nobody remembers what became of Kazoo Vizena; as part of the village background, he gradually faded into it one day.
The fact that my mother as a child had a camera in the 1940s deserves some comment. My grandparents were two of the bigger fish swimming in the small pond of Westmeath. They were not well-to-do but, as merchants, they had certain advantages. For one thing, most families ran a line of credit for groceries, and as the people whom others were beholden to, my grandparents possessed a certain degree of eminence. Also, during the Depression and then wartime rationing, certain foodstuffs were beyond the means of many families; but for grocers, everything in the shop was available. I don't know how she got her camera, but she acquired many special items as a child such as the first ballpoint pen in the village, cross-country skis, and a desk for homework. Salesmen often gave her samples, and my grandmother waylaid all the incoming products for the store, cashing in coupons, and nabbing promotional perks.
I am glad that my mother had a camera on that summer day in 1946 because she snapped a photograph that captures the essence of young men returning home. After doing their duty for their country, they were on the brink of a new future. Yet they still had time to reconnect with their roots, time to fraternize on the village store veranda, and time to indulge a twelve-year-old girl.
This is an original story, first published in The Country Connection Magazine, Issue 52, Summer 2006. Copyright Patti Desjardins.