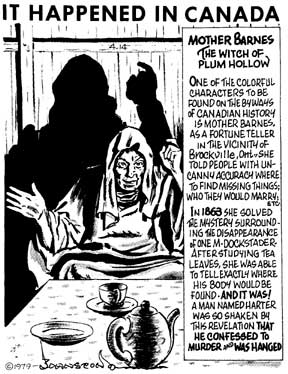 Elizabeth Barnes:
The Witch of Plum Hollow
by Melanie King
Illustration: Caricature of Mother Barnes by Gordon Johnston. Courtesy the National Archives of Canada, C149721
Elizabeth Barnes was many things, but witch wasn't one of them. She was a mother, grandmother, clairvoyant, soothsayer and water dowser. She was the seventh daughter of a seventh daughter, which she claimed was the reason behind her "second sight" and "sixth sense."
As much mystery surrounds Elizabeth Barnes now, more than 100 years after her death, as during her lifetime. Some sources show her date of birth simply as 1794 and her death date as 1886, while others claim that she was born on November 5, 1800 and died on February 10, 1891. Genealogical research has been unable to confirm or deny these dates.
She was born Jane Elizabeth Martin in County Cork, Ireland to a well-to-do family. Her father was an Irish landowner of English descent, a colonel in the British Army and a strict disciplinarian. Her mother was an Irish lady of Spanish Gypsy descent. Elizabeth's father had arranged her marriage to a colonel friend of his who was at least twice as old as his daughter. Twenty-year-old Elizabeth sat by and watched as the arrangements took place. She was in love with a much younger man, Robert Joseph Harrison, who was also a military man. As her impending wedding day approached, her love came to her in the night and they quietly stole away and eloped to North America.
Here again, there is some controversy. Some sources claim that the newlyweds settled in the United States while others claim they came to Canada and settled near Cobourg, Ontario.
When Elizabeth's parents discovered that she had married someone not of their choosing, not to mention "beneath her station," they disowned her.
Elizabeth was completely devoted to Robert and loved him with all her heart. Early in their marriage they were blessed by the birth of their son, Robert Harrison, Jr.
Tragedy struck when Elizabeth was just 27. Her beloved husband died, leaving her on her own to raise their son. She mourned her loss deeply and for a few years all that kept her going was Robert, Jr.
About four years after the death of her husband, Elizabeth married David Barnes, a native of Connecticut and a shoemaker by trade. Together they had nine children; six sons and three daughters. Their two oldest sons, John and Thomas, died as young children. In the autumn of 1843, David, Elizabeth and Robert Jr. moved to Sheldon's Corners near Athens, Ontario. It isn't certain when Elizabeth discovered her "gift," but it was after their arrival here that her use of it is first documented, which led to the fear that some area people felt towards her and the respect that others showed her. It was here that she was first referred to as "Mother Barnes."
Housework was never a favourite chore of Elizabeth's, but as much as she detested it, she did it.
Elizabeth and David raised seven children here, but in time, David lost interest in farming and decided it was time to move on. He took their youngest son, David, with him and moved to Smiths Falls, where the two stayed with an older son, Sam, who had ten children of his own.
Robert, Jr. joined the American Army and had become a colonel in the Civil War when he died in Kansas.
With a houseful of children to feed, Elizabeth turned to fortune telling to support them. It wasn't long before her reputation spread and people from near and far were coming to have their fortunes told by the kindly woman. Her success was quickly followed by fame.
Some of these people who came to see her offered her great sums of money, but she never accepted more than her usual fee of 25 cents.
It was during this time that a young reporter came to interview her and coined the title "Witch of Plum Hollow." This wasn't meant to be a derogatory title, more a title of respect, meaning "wise woman." However, the title stuck and Mother Barnes is still referred to as the Witch of Plum Hollow.
After her son Williston married, he stayed at home and his wife took over the housework that Mother Barnes hated. Her son Sam, who later became reeve of Smiths Falls, sent his children to visit their grandmother for holidays.
Former neighbours recall seeing many wagons and buckboards coming from all directions to the tiny house where Mother Barnes and her children lived.
These same people also recall climbing the rickety stairs, only to come across a woman wearing a shawl over her shoulders, sitting at a table with a pot of tea beside her.
Stories of her clairvoyant prowess included her ability to tell where the body of Morgan Doxtader would be found. She was also able to tell that it was his cousin Edgar Harter who murdered him. He later was hanged for the crime in Brockville.
Another man who had lost several sheep came to her to find out where his missing animals were. She told him that the meat was in a barrel in his neighbour's cellar and that the hides were tacked on the walls of this neighbour's stable. Although his name isn't mentioned, she did tell the man who this neighbour was. When he checked the stables, he found the hides of his missing sheep where she said they would be.
A young woman, about to be married, was told that she would marry, have children and live in a house beside a railroad track. During this time, one of her children would be killed. The young woman did marry, have children and the family did move to a house next to a railroad track. The young mother was in constant terror that one of her children would be hit by a train and killed. Eventually, one of her children was killed, but it was the result of a kick from a horse in their own yard.
Dr. W. F. Jackson came to Mother Barnes to find a missing deed. She told him that "It is tied with a blue satin ribbon and is hidden in a white satin slipper in the home of a relative," whose name she also mentioned. When the house was later searched, the deed was found in the slipper which was hidden in a dresser drawer.
A Mr. Bailey of Innisfil came to find out where his horses had disappeared. During his visit with Mother Barnes, she told him that while one of his fields was terrible grazing land, it was very valuable. After Mr. Bailey sold the farm, the new owner opened a gravel pit in this field which made him thousands of dollars.
A group of young people drove to her cabin to have their fortunes told. One girl, who was visiting the area, asked Mother Barnes if she would marry the young man she was currently "keeping company with." She was told no, that she would marry the young man who had driven them this day. When he later entered the room, he was told that the young lady who had just left would be his wife. The two eventually married, but it is entirely possible that the prophesy is what gave them the idea.
Before Confederation, Canada was two provinces—Upper and Lower Canada. The capital had been shifted about many times. John A. Macdonald, then attorney general for Upper Canada, went to Mother Barnes to see if she could tell where the location of the new capital would be. She told him that Queen Victoria would pick the city on the south side of the Ottawa River known as Bytown, now known as Ottawa. She also went on to predict that this young man would become prime minister.
Elizabeth Barnes was a small woman, barely five feet tall, with slender hands and tapered fingers. Her sharp, penetrating eyes were of great value to her as she read not so much the tea leaves of the people who came to see her, but their faces.
In addition to her own family, she raised three orphan children. When she died, she left 68 direct living descendants: seven children, 47 grandchildren, and 14 great-grandchildren.
Elizabeth Barnes was buried in an unmarked grave in the Sheldon Cemetery. In later years, a headstone was erected by Claude and Ella Flood, cheese makers at nearby Plum Hollow from 1924 to 1974, to mark her previously unmarked grave. This stone uses 1794 as the year of her birth and 1886 as the year of her death.
The little cabin still stands, although in a serious state of disrepair. The June day that the author drove by the site, a blue tarp covered a good portion of the roof and it appeared that there were windows stacked neatly against each other at one end of the cottage. A large boulder with a commemorative plaque, erected by her descendants, stands under the shade of a tree, proclaiming the site to be the "Home of Mother Barnes."
Sometime after the author's visit in June, the property has been put up for sale. The current owner wanted to restore the cabin and had begun shoring up the structure. The plaque has been removed from the boulder because it had been used as target practice and the owner didn't want it to be damaged further. With the exception of its "local historical" significance, there is no other historic designation.
We can only hope that the future owner of the property is as sympathetic to the local significance of the site and continues the restoration efforts of the current owner.
This is an original story, first published in The Country Connection Magazine, Issue 41, Winter 2003. Copyright Melanie King.
To purchase this issue of The Country Connection, please send a cheque to:
Gus Zylstra, 691 Pinecrest Road, Boulter ON K0L 1G0, Canada
In Canada: $3.95 + 2.20 shipping + .80 HST = $6.95
In the USA:$3.95 + 3.80 shipping + 1.01 HST = $8.76