Highway of Shame,
Highway of Hope
by Maria Henry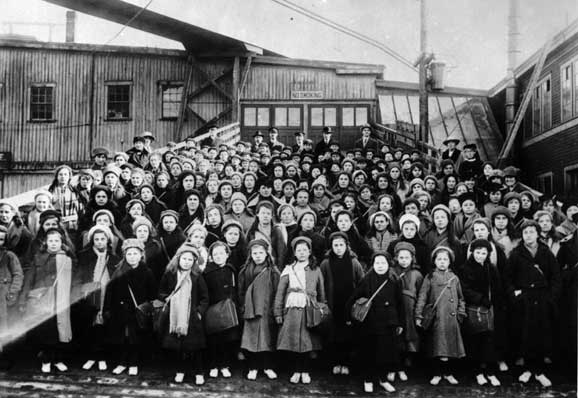 Immigrant children from Dr. Barnardo's Homes at Landing Stage, St. John, NB. These were the first children to arrive after World War I. (Libray and Archives Canada PA-041785)
"To be a home boy—it's so hard to explain—there's a certain stigma.
I know that for a fact. You're just in a class. You're an orphan.
Years ago you counted as dirt. You were a nobody.
That was only common sense. You were alone in the world."
William Price, Home Boy, This Country Canada
In 1991, Dave & Kay Lorente hosted the first reunion for British migrant children—Home Children—and their families in Renfrew. Billie Price, 81, fled the event. When Dave had gently invited the Home Children to tell their stories, Price couldn't bear it. He apologized the next day. "I couldn't stay. If I had, I would have broke down. Never thought I'd see the day when Home Children would be recognized and honoured."
This recognition is largely due to the tireless efforts of the Lorentes. As founders of Home Children Canada (HCC), a sub-committee of Heritage Renfrew, they have given a voice to the children of long ago—the wards of "the Homes"—that history seems to have forgotten.
Dave's own father, Joe, never spoke in detail of his childhood. One day in 1963, Dave drove a reluctant father for a "ride in the country" to Killaloe. As they approached the old train station, Joe cryptically said, "That's where they left…the boy…." Joe began to get even more agitated as they approached the nearby ghost town of Brudenell. Joe was excited to recognize Queen of Angels Church, but refused to drive past the cemeteries. Dave thought this odd, but not wanting to intrude, did not press further.
The answer to this strange behaviour came in 1979, 14 years after his father's death. Upon reading Phyllis Harrison's collection The Home Children: Their Personal Stories, it dawned on Dave: His father may have been a Home Child. It took another 11 years to prove it.
As educators with a passion for ancient history and archaeology, Dave and Kay were well-suited for the detective work which was in store.
Dave started to fit the pieces together, gathering snippets of information from his own mother, writing to many former "sending agencies" in Britain. When he retired, it took Dave four years of researching records at Ottawa's National Archives to discover that his Cardiff-born father came from London, England; that in February 1914, at 15, he sailed unattended on the SS Virginian; that he had been sent as a farmhand to Brudenell; that "an incident with a pitchfork" had him hiding in the woods until the neighbours found him and returned him to the Catholic "distribution home" in Ottawa, St. George's Home. In his next placement, in Fallowfield, he was treated well.
In 1991, as outgoing president of Heritage Renfrew, a local history society, Dave was invited to lecture on any topic of his choice. He told his colleagues that he would like to speak on Home Children, because "nobody seems to know a damn thing about them." One responded, "Oh, I wasn't allowed to play with Home Children."
Dave describes this moment as magic, "an epiphany," when he realized why these children never talked about their pasts: They were stigmatized.
If that conversation was the conception of Home Children Canada, the first Home Child reunion was its birth. One major goal of HCC would be to explain and remove the shame that these children-now-adults had carried for all their years.
Who were these 100,000 children sent to Canada between 1869 and the 1930s? Why were they sent so far, to live among strangers? Why were they so ashamed that, in later years, even their own families did not know their past?
Post-Industrial Revolution Britain: the city alleys and docks were filthy and diseased. In the last quarter of the 1800s, half the children died before their fifth birthday. Outcast and impoverished, these children were branded as "waifs and strays," "guttersnipes" or "street Arabs." The first attempt to help in 1844 was called "The Ragged Schools Movement."
The social reformers of the age felt it a religious calling to rescue these children. Annie MacPherson, founder of the Marchmont Home in Belleville writes: Boys came to us [in London] for shelter instead of going to empty barrels, railway arches, and stairways…But our walls had limits, and our failures in finding employment for many away from their old haunts became a great difficulty, and the God-opened way of emigration to Canada was pressed upon us.
MacPherson accompanied her first group to Belleville in 1870. Philanthropist Thomas Barnardo fully embraced child migration in 1881, opening Hazelbrae in Peterborough. Both of these homes were for Protestant children. Catholic children were placed at first through Quebec; in 1904 St. George's Home was established in Ottawa. The Lorentes say "thousands" were sent to the Ottawa Valley primarily through these receiving homes. There were many other agencies in other areas.
Dave and Kay Lorente have no doubt the reformers were sincere. Barnardo described his program as the "Highway of Hope," often describing these children as gifts to Canada, the "flower of the flock."
An associate of MacPherson paints this pastoral scene: Miss MacPherson has been able to spend…much of her time visiting among the different farms where our children are located, within some 20 or 40 miles of Belleville in the counties of Hastings and Prince Edward…and oh! the joy of these children to hear the cheery voice of her who had first seen and relieved their misery in the old country.
However, the picture was not always pretty. In 1869 Maria Rye was the first to establish a home in Canada at Niagara-on-the-Lake. Answering many critics, she admitted the short-comings of some of her methods, writing in 1893: At the commencement of my work I did indenture the children, but practically it did not work, there was far more danger to the child in being obliged to stay where it had become hateful and was not wanted. At the commencement of this work in 1869 I fondly hoped…all the people who took them would be perfect; experience soon undeceived me.
Most children in the sending homes were not orphans. Perhaps a parent had died leaving the family destitute. Longing for a better life for their children, a parent might willingly sign over their rights to an agency. Sometimes a parent would give permission for the child to be sent abroad. But sometimes, it was done without.
Children were often too young to comprehend, at first, the gravity of what was happening to them.
Susan Kelly came through St. George's Home in Ottawa to Calumette Island, near Pembroke, when she was 10. She was "scared" she says to be in a new country. But what she remembers most was the nun who bought all the kids ice cream when the ship docked in Quebec in 1920.
For some it was an adventure, sailing on ships with lofty names like Empress of Scotland, Hesperian, and Min-nedosa. Art Monk tells The Cobden Sun in 1993: "it was all a lark. We didn't realize what was happening. I can remember laughing and giggling about it." He was 11-years-old when he came to Marchmont in Belleville in 1923.
Although Art was treated well by the Leech family in Rankin, he always knew he was different. He was alone a lot, he says, with his thoughts. "I would wonder what's happening." Lonely, he would often cry himself to sleep. As an adult he didn't tell his own family he was a Home Child until 1989.
For many Home Children, there was also disappointment. By contract, wages were supposed to be put aside in an account—"minus expenses." Very often, when a child left their employers' service, they would find little, if any, in their account. Those "expenses," such as clothing, claimed by the employer had presumably eaten away any earnings.
Despite evidence, testimonies, documentaries and books, skeptics still refuse to believe that Britain and Canada could possibly have taken part in a child migration scheme such as this. Many are simply unaware; the topic remains untaught in most schools. In 1999, former Governor General Romeo LeBlanc called this ignorance "collective amnesia."
The Lorentes have been working to change this, mostly at their own expense. HCC has been their passion in their retirement years. By writing thousands of letters, lecturing, consulting and building networks, they have unlocked closed doors, making it possible for the Home Children and their families to obtain precious records—and finally get closure. In 2002 alone, they wrote 4,418 letters.
In 1998, at the invitation of British PM Tony Blair, they presented a compelling brief to a British Parliamentary committee. They outlined the ordeal of these children and the "inherited" problems that come with no "classification." They urged the government to claim responsibility, and make records available.
Unfortunately, some records had been destroyed, with only fragments of information on cardex. However, just like detectives, the Lorentes have discovered that other records were merely forgotten, lost in an attic or basement.
Sometimes it takes years for a Home Child to steel themselves enough to write to Britain for their records. Charlie Martin waited four years to write. After learning of his past Charlie told Dave, "I'm mad, I'm sad, and I cried. They lied to me." His mother in England had written letters that were never forwarded to him. The Lorentes explain it was considered wise in those days to "make a clean break."
Likewise, siblings were rarely, if ever, placed together. Nora Overs was 15 in 1923. Her brother George, who had arrived in Canada earlier, contributed to her passage, expecting that she would be placed with him. She wasn't. It took him two years to find her working as a domestic in Ottawa.
Some migrant children, especially those sent to Australia have considered litigation. When the members of HCC heard this in 1992, they passed a resolution—their only resolution, ever—stating: We will not ask for restitution. We will not ask for retribution. We will not even ask for an apology. We are glad to be in Canada. We are proud to call ourselves Canadians. All we really want is access to our records.
There are now at least five historical plaques memorializing these migrant children at significant sites in Canada (mostly in Ontario), each unveiled by a Home Child. Compassionate "open letters" of commendation have been written by leaders of the federal government, including former-Prime Minister M Jean Chretien. Sheila Copps, then-Minister of Canadian Heritage, recognized the Home Children story was of "official national significance." From Britain, even Princess Diana lent her voice.
The Lorentes feel such gestures are crucial to relieving the rejection. Shame is yielding to hope. The reunions, which grow larger each time, have done much to heal the isolation. And, finally, thanks to Dave and Kay's generous perseverance, the lasting contributions of Home Children are being acknowledged.
Originally, the federal government paid $2 per child and Ontario paid $6, as demand for cheap labour was so high; now the descendants of these children pay $20 to $25 billion in taxes every year. It has been said that Home Children and their descendants comprise 11 percent of Canada's population.
• William Price, so fearful of his past, went on to write a memoir of his ordeal called Celtic Odyssey.

• Charlie Martin erected a statue of St. Patrick and a plaque honouring the pioneer families in the idyllic valley of Mount St. Patrick near Renfrew.

• Nora Overs became a much-loved Sister of St. Joseph in Pembroke, serving for 72 years. The Lorentes delivered her eulogy at her request.

• Susan Kelly Chaput settled in Pembroke and had 13 children. Two little girls died in a fire, while she was giving birth to a third, who also died young. Her sons just dote on her. She says she loves Canada. Since her landing, ice cream is her favourite food.

• Art Monk, so grateful to the Leech family, dedicated a stained glass window in their name at the Anglican church in Rankin. As hard as life was sometimes, he writes, "I am proud to be a Canadian."

• Like Joe Lorente, Louis Casartelli and Joe Brown had also gone as farmhands to Brudenell. Both became priests for the RC diocese of Pembroke, ministering to the very communities where so many of the little migrants struggled. Although bittersweet, Rev. Brown reflected a pride common to HCC members when he said, "I never celebrate my birthday. I celebrate the day I came to Canada."
(The saga doesn't end here, Mr. Lorente has helped other little migrants, as well: the Child Evacuees of WWII who were sent as late as 1948. He says many suffered the same effects of loss and separation as the original Home Children; some were never allowed to return home.)
For 14 years Dave Lorente answered requests for assistance in locating Home Children records. He has now handed the torch to John Sayers of the British Isles Family History Society of Greater Ottawa. For more information:
John Sayers, Home Children Committee, BIFHSGO
2157 Fillmore Crescent, Ottawa ON K1J 6A1
This is an original story, first published in The Country Connection Magazine, Issue 47, Summer/Autumn 2004. Copyright Maria Henry.
To purchase this issue of The Country Connection, please send a cheque to:
Gus Zylstra, 691 Pinecrest Road, Boulter ON K0L 1G0, Canada
In Canada: $4.95 + 2.20 shipping + .93 HST = $8.08
In the USA:$4.95 + 3.80 shipping + 1.14 HST = $9.89