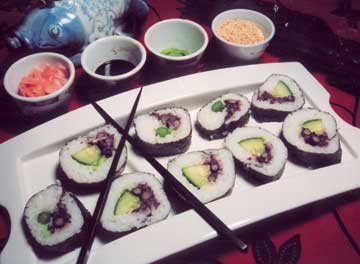 Japanese Rice Rolls
... a dish as refreshingly pretty as summer itself
by Linda Gabris
It's time to file away all those cherished recipe cards for winter soups and hearty stews and begin digging up some exciting new ideas for lighter, cooler fare. With the return of longer days and warmer weather, there's nothing I look forward to more than rounding up family and friends for impromptu gatherings in my backyard flower gardens.
The secret to success of Al fresco parties is keeping food fun and easy. When it comes to patio entertaining, a favourite dish—and one that gets the biggest rave—is delicious Japanese Rice Rolls.
This eye-pleasing recipe is adapted from the California Roll I discovered with friends in a Vancouver sushi bar, a healthy dining alternative growing in popularity.
Japanese Rice Rolls are very similar in appearance to maki, where fillings are rolled inside seaweed. The great news is these rolls are delicious, economical and easy to make.
Japanese Rice Rolls are low in cholesterol and rich in minerals. Vitamins come from vegetables, carbohydrates from rice, and iodine and iron from seaweed. They are as versatile as you want and once "rolling," you'll find they are an easy way to wrap up your dining in cool, elegant fashion.
Go for an authentic Japanese look by draping the table in a square of brightly patterned Oriental silk or other "Far East" fabric from your linen closet. Fold paper napkins into little fans and, using rubber bands, attach each one to a pair of chopsticks for flair and fun eating! When entertaining outdoors, this is an attractive way to keep napkins from drifting off in the wind while setting up.
Dry white wine complements the rolls very nicely, but if you want your guests to leave with a lasting impression, serve little porcelain cups or small glasses of sake—fragrant Japanese rice wine. When the weather's hot, you'll want a tall pitcher of something frosty on the table. For this occasion I can't think of anything better suited than thirst-quenching iced green tea.
SHOPPING LIST
SEAWEED: Paper thin, silvery-green sheets of dried or toasted seaweed sheets, known as nori in Japanese, are used as wrappers. The brand I buy comes in packages of 10 sheets and costs about three dollars.
RICE: Use any sticky rice but the best choice is medium grain. Some brands marketed as "sushi rice" work exceptionally well for this purpose.
RICE VINEGAR: To flavour and condition the rice, add su—Japanese rice vinegar. Fragrant rice vinegar is inexpensive and available in most supermarkets.
WASABI: If you can't cut the heat, go easy on wasabi. This Japanese horseradish is extremely hot, but in small doses offers a unique flavour and lovely spring-green colour. Buy it ready-made in tubes or as powder you mix with water. Both are reasonably priced and relatively easy to find in larger supermarkets. A good substitute is prepared, mild or hot, white horseradish.
PICKLED GINGER: Nothing refreshes or enlivens the taste of these rolls better than pretty and pink, pickled ginger—known as gari in Japanese. Pickled ginger is in most supermarkets or you can make your own. Just peel ginger root, slice thinly and steep for five minutes in a weak, honey-sweetened, vinegar solution. Pour into sterilized jar and let mellow for a day or two before using.
SOY SAUCE: This common sauce is nice drizzled on the rolls before devouring.
CUCUMBER: Known as kappa in Japanese, the colourful green skin of English cucumber can be left on for great colour. In season, fresh garden cukes are perfect.
ASPARAGUS SPEARS: This is usually the most expensive item in Japanese Rice Rolls. Since only one spear per roll is needed, buy unbundled, if possible, to keep the cost down when not in season. Steam for two minutes before using. Pickled asparagus spears work great as well.
BLACK BEANS: You need 2 cups of cooked, well-drained black beans. Canned black beans can speed up preparation time.
SESAME SEEDS: Great for sprinkling onto the rolls.
GETTING STARTED
PREPARING RICE: Put 2 1/ 2 cups well-washed, medium-grain rice in saucepan. Add 3 cups of water. Cover and bring to a boil. Reduce heat, cover tightly and simmer 20 minutes or until rice has absorbed water. Remove from heat. Let stand, covered for 15 minutes. Combine 1/4 cup of rice vinegar with 1 tablespoon honey and pinch of salt. Heat until it dissolves. Pour mixture over rice and cut through with a wooden spoon, working until rice turns glossy. Set aside until rice cools.
PREPARING BLACK BEANS: Using blender, puree cooked and drained black beans with 1 clove of garlic until a thick paste. Set aside.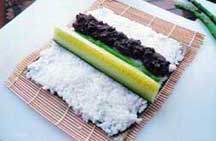 READY TO ROLL: Add 3 tablespoons of rice vinegar and 1 cup of water to a bowl to use as a hand wash. Place a sheet of seaweed onto table or little bamboo mat. You can buy special mats precut to fit nori sheets for less than a dollar at specialty or dollar stores. Wet hands in vinegar solution. Take a handful of rice and pat it uniformly onto the seaweed sheet, working to the edge.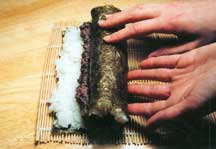 ROLL: Spread very thin line of wasabi down middle of sheet. On one side of wasabi, lay an asparagus spear cut to length of sheet. Using hands, form bean paste into a oblong about an inch thick and run it uniformly along the other side of the wasabi. Now lift end of mat and carefully roll up in jellyroll fashion, using hands to guide and gently compact the roll. Transfer roll to fridge.
For variation substitute a cucumber strip.
SERVING TIME: Set rolls in the fridge to mellow for at least one hour before serving. To serve, use a very sharp knife to cut rolls into 3 /4-inch slices. Arrange on platter. Leftover rolls wrapped in plastic keep nicely for two days in the fridge.
Surround rolls with little bowls of toppings: wasabi, soy sauce, pickled ginger and toasted sesame seeds. Allow guests to spoon on toppings of choice. I like a little dab of each on mine.
PICNICS
Japanese Rice Rolls are perfect for packing into a picnic basket—a wonderful change from sandwiches but can still be eaten by hand. The secret to perfection is not cutting the rolls until serving time, so remember to take along a sharp knife. Toppings can be toted in little jars.
VARIATIONS
The whole fun of making Japanese Rice Rolls is being creative. It's virtually impossible to go wrong. My motto is: If it'll roll, it'll work! In place of asparagus spears and cucumber strips, try lightly steamed carrot for a healthy and exceptionally pretty dish. Avocado is delicious as are leek bottoms, steamed broccoli stalks or turnip sticks. Don't be shy to mix and match. Try chick peas, kidney beans, pintos or any other tasty filling you fancy.
This is an original story, first published in The Country Connection Magazine, Issue 46, Summer 2004. Copyright Linda Gabris.