Old-fashioned Grain Soups
… for hearty, healthy eating all winter long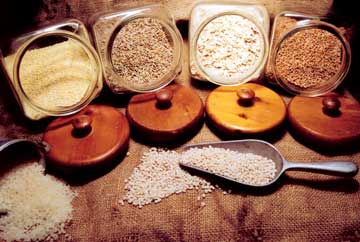 by Linda Gabris
During these blustery, cold days of winter, nothing warms the body and soul like a steaming bowl of fragrant grain soup.
Some of my most cherished soup recipes are those that were handed down to me by my grandmother who excelled at making delicious, hearty soups out of an array of common, inexpensive grains.
"If you've got a handful of grain," Grandma'd wink as she heated up her big cast iron soup pot on top of the crackling woodstove, "you've got fixin's for great soup."
My grandparents relied upon being self-sufficient. It was important to have the pantry and root cellar well-stocked before cold weather struck. After putting up bounty from their huge garden and stowing away Mother's Nature's offerings from backyard woodlands, there was never any fear of going hungry, even if snowbound for months. Sacks of grains topped their list of staples that were ordered from town each fall.
Unlike Grandmother, I have year-round access to grocery stores, but I still take great comfort in stocking my cupboard with an assortment of grains for making old-fashioned winter soups whenever the urge arises.
I don't buy grain by the bushel as Grandma did, but I do have enough on hand at any given time. Over the years I've even added a few new grains to my soup pot like millet and brown rice, which Grandmother never had the luxury of using. The more common picks were wheat, oats, corn, barley, rye and plain white rice. When you're buying grain, always try to choose organically grown and once home with your purchase, store it in a tightly covered container on a cool pantry shelf.
It's fascinating that grains contain all the basic nutrients needed for good health. They provide significant amounts of protein, complex carbohydrates, vitamins, minerals, fibre and are low in fat, containing no cholesterol. Grandma used to quip after giving thanks for our daily bread, that it was not so much the bread we were praising—but rather the precious grains from which it was baked.
All the grains are interchangeable, so no two soups ever have to be the same—in my house, no two ever are! You can even mix and match grains for exciting variety. Don't forget that grains can serve as a healthy, filling substitute for noodles in almost any soup.
Keep in mind that grains absorb liquids and swell greatly upon cooking. Most types, especially millet and barley, can increase up to four times their original size, so do not add more than the recipe calls for unless you purposely want a thicker soup—too much and you'll end up with porridge! If soup has become too thick upon sitting, you can add a bit of water or stock to thin it down, if desired.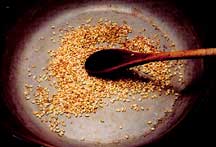 The secret to great grain soup
Dry roast the grain before adding it to the pot. This produces a nutty aroma and rich broth. Heat a heavy-bottomed skillet until a drop of water sizzles. Like Grandma, I find that nothing beats cast iron for roasting grain as it holds and distributes heat evenly.
Rinse grain in cold water. Let drip-dry in sieve, then pat dry on paper towels. This removes any grit and some of the excess starch, especially in rice.
Empty cleaned grain into pan and stir constantly with wooden spoon until roasted as directed in each recipe. Do not over-roast as this can cause a burnt taste.
When grain is ready, empty into soup pot and proceed. Go ahead and let your creative juices flow.
HOMEMADE VEGETABLE STOCK FROM SCRAPS
Some soup recipes call for vegetable stock.
You can use vegetable bouillon or cubes, but making your own stock from scratch is so much better, easy and economical. I keep a special container in my fridge that catches all my veggie discards like fleshy onion and potato peelings, outer cabbage leaves and heart, carrot and parsnip scrapings, turnip trims, celery leaves, stripped parsley stems, pepper pulp and seeds, and other bits that'll yield flavour in my stock pot. Just remember to scour veggies while still whole.
To make stock, empty scraps into pot and add about a quart of water. Bring to boil, reduce heat and simmer covered until every last vitamin, mineral and drop of flavour has been extracted. Season with salt, pepper and any spice or herb that tickles your fancy. Strain and discard scraps. Simple soups can be made by adding roasted grains to stock and simmering until tender.
TIP: The more carrot scraps you use, the richer the stock will be both in flavour and colour.
Each recipe makes about 8 to 10 cups of soup. Recipes can be halved or even doubled if needed. Leftover soup can be frozen for another day's fare. I make big batches so I can always have a handy thermosfull to take the chill out of snowy trails. I freeze leftover soup in zip lock bags in amounts to suit my thermos—making it easy to thaw, heat and tote.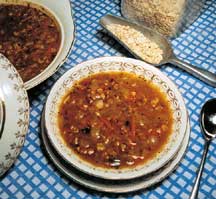 OATMEAL AND ONION SOUP
Here's a fragrant, filling soup that's supper in itself.
3 tablespoons large oat flakes
1 tablespoon vegetable oil
4 large, finely chopped onions
2 cloves minced garlic
3 grated carrots
6 cups vegetable stock
pinch of dried basil
Toast oat flakes, stirring constantly until they are golden. Empty from pan and set aside. Put oil in skillet. Add onions and garlic, sauté until onions are soft. Empty into soup pot and add remaining ingredients, except oats. Bring to a boil, reduce heat and simmer, covered, 15 minutes. Sprinkle oats into soup and simmer, uncovered, another 5 minutes. Taste and adjust seasoning.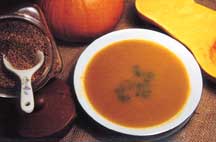 WHEAT BERRY AND SQUASH SOUP
Grandpa grew an array of squash in his backyard garden—enough to fill the root cellar to last all winter long! You can use butternut, pumpkin or any squash you favour. This is an interesting soup—tender wheat berries swimming in smooth puréed squash. (Also great when made with rye kernels, barley, rice or millet)
1/2 cup wheat berries (or 1/2 cup rye kernels, 1/4 cup barley or rice, or 2 tablespoons millet)
1 butternut or other medium-sized squash, peeled and cubed
water
4 cups vegetable stock
Toast wheat (or rye) kernels until they start to pop. (Toast barley, rice or millet until golden). Set aside. Put squash into pot with just enough lightly salted water to cover, bring to boil, reduce heat and simmer until soft. Puree until smooth. Add vegetable stock and wheat kernels. Simmer until kernels are tender. Taste and adjust seasoning. Garnish with parsley.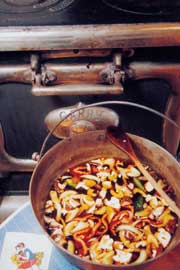 LIZZY'S ORIENTAL RICE SOUP
Grandma had hundreds of ancient, rice soup recipes in her collection. Here's a new-fangled version using shiitake mushrooms. Because the stalks on these mushrooms are fibrous, they should be removed. They can be saved for adding flavour to stocks, then dicarded upon straining. By the way, this soup is named after me…
1/2 cup rice
6 cups water
6 dried shiitake mushrooms, without stalks, broken into pieces
3/4 cup sliced celery
2 sliced carrots
1/2 cup each of cauliflower and broccoli flowerets
1/2 cup red, yellow and/or green peppers, coarsely chopped
3 tablespoons of soy sauce or enough to turn soup rich brown
few drops of sesame oil
1 small hot pepper or drop of chilli oil (optional)
Toast rice until evenly golden. Set aside. Put water into soup pot and add shiitakes. Bring to boil, reduce heat, cover and simmer until mushrooms bits are plump. Add rice and simmer covered for 10 minutes. Add remaining ingredients (and any other veggies you desire), cover and simmer until vegetables are tender, but not soft. Taste and adjust seasoning. Garnish with finely sliced green onion.

OLD WORLD CORN CHOWDER
In the fall, after corn was harvested, Grandma'd peel dozens of ears, tie them together by the husks and hang them to dry in the attic. This is the corn she'd use to make her delicious corn chowder. I've updated the recipe using store-bought or home-canned corn which produces great chowder—almost as good as Gram's! When making chowder from fresh corn, it can be cut from the cob, roasted in 475°F oven under broiler until golden. This produces a rich, golden chowder.
1 quart canned corn or about 4 cups
3 cups vegetable stock
4 tablespoons fine cornmeal blended into 1 cup soy milk (more or less depending on how thick you like your chowder)
Empty corn and juice into soup pot and add stock. Bring to boil, reduce heat and simmer covered for 5 minutes. Add soy milk mixture and heat, stirring constantly until thick and smooth. Season with salt and pepper. Garnish with a pinch of basil or a snip of chives. Serve with corn cakes on the side for dunking.
GOLDEN CORN CAKES
1 1/2 cups flour
1 1/2 cups yellow cornmeal
3 teaspoons baking power
3 tablespoons sugar
2 tablespoons vegetable oil
water
Combine all ingredients, using enough water to bind. Heat heavy skillet and lightly oil. Drop batter by spoonful and fry cakes until golden on both sides. (Makes 6 to 8 corn cakes.)
This is an original story, first published in The Country Connection Magazine, Issue 48, Winter 2005. Copyright Linda Gabris.