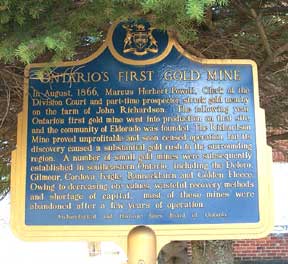 Ontario's
first gold rush
by June Payne Flath
Gold is unique. It glows with an iridescence. It will not corrode, rust or tarnish. It is malleable—some say one ounce of gold can be drawn into a wire from 8 to 64 kilometres (40 miles long)—yet it is very dense, 19 times heavier than water.
Canada is one of five countries that together produce about 90 percent of the world's gold. South Africa leads the pack with the former USSR, Australia, the United States and Canada following behind. More than half of the Canadian output comes from the Pre-Cambrian Shield in northern Ontario.
Ontario's first discovery of gold was declared on August 15, 1866, when 21-year-old Marcus Powell in Hastings County spoke the words, "I discovered gold." Powell was trenching along a seam of copper on Richardson's farm when his pick broke through a cavity and opened into a cave. The hanging wall was quartzite while the foot wall was granite. The floor was iron, talc, quartzite, black mica and other minerals, with gold leaves and nuggets found in all these rocks. The largest nugget was the size of a butternut.
It took a while for word to get out, and at first people didn't believe him. But once the announcement was made, a dozen mines and a collection of boom towns sprouted from that rocky farmland near Belleville.
Madoc was the nearest town to the gold fields, but only one stage ran from Belleville on the Grand Trunk Railway. Getting to the gold rush site was as much of a challenge as finding the gold. Four coaches and two covered stages were brought into service. Prospectors picked up at Belleville hotels at 7:30 a.m. were in Madoc by noon.
In the meantime, south of the discovery, surveyor Charles Aylesworth got to work subdividing the northeast corner of John Moore's farm into 126 quarter-acre village lots. Within weeks there were 80 buildings in the new settlement.
This boom town is Eldorado. Legend has it that at the peak of the Hastings County gold rush, it cost 50 cents per night to sleep under a wagon in the vicinity of Eldorado. Most gold-seekers chose to come to the established town of Madoc, which swelled with service industries and hotels eager to accommodate the influx of newcomers.
At least 26 roadhouses mushroomed between Belleville and Eldorado. Excitement and population peaked in April when it is believed that 4,000 prospectors, investors and curiosity seekers arrived in central Hastings.
Land speculation was as lucrative as digging for gold. Speculators bought and sold, price tags climbing with each sale. Legend tells of one owner who sold 1 1/4 acres of land for $700, only to learn that that same piece of land sold for $4,000 an hour later. Those who weren't selling land or services were publishing books or giving lectures on how to find gold.
One businessman, along with two American sidekicks, was trying to stir up local investors for the Richardson site. Richardson gave them a 30-day option on 19 acres of land on his farm for $20,000 and allowed them to take several barrels of rich ore as samples.
Richardson never saw any of the promised money and so began another business deal with three other men. These men paid him $36,000 in cash. Richardson immediately gave young Powell $16,000 for discovering the gold. When the first group of investors heard Richardson had gone elsewhere, they took Richardson and the new owners to court. The courts sided with those who had actually paid money for their deal, and a building was erected near the main shaft and an armed guard put on duty.
Rumours ran thick. One rumour claims the guard did a lively business selling loose gold specimens. Another claimed the mine was worthless and a "con" to drive up land prices. Tension grew so bad between mine owners and prospectors that a team of Mounties was sent to keep the peace.
Before the Mounties arrived, 200 men marched on the offices of the Richardson mine and confronted the manager. They demanded to see gold, promising to pull the office down around his ears if he didn't comply. He let a few of them into the mine and down into the gold cellar.
When these men returned to the surface, the spokesman for the group climbed up onto a stump and declared they were satisfied with the richness of the mine. They claimed that from a quart of dirt they had washed $13 of gold. The group gave three cheers and headed for a tavern.
Of 30 mine shafts only one-third showed gold, and by 1870 even the mines that had been productive were running dry. During the initial excitement, dozens of mining companies were established by investors throughout the gold region and beyond, including Hamilton, Toronto, Peterborough, Belleville, Kingston and Montreal.
In July, 1867, the gold rush began a new phase. Large companies entered the picture replacing individuals. They brought with them large quartz crushers, steel sieves and grinding pans that cost thousands of dollars. Two of the stage lines between Madoc and Belleville withdrew their service, and the Madoc hotels were no longer crowded. With fewer strangers arriving, good bed and board accommodation was once again easily obtained at a reasonable rate. The prospectors and miners drifted away in search of new trails of gold dust.
This is an original story, first published in The Country Connection Magazine, Issue 51, Spring 2006. Copyright June Payne Flath.
To purchase this issue of The Country Connection, please send a cheque to:
Gus Zylstra, 691 Pinecrest Road, Boulter ON K0L 1G0, Canada
In Canada: $4.95 + 2.20 shipping + .93 HST = $8.08
In the USA:$4.95 + 3.80 shipping + 1.14 HST = $9.89