Rockingham
by S. Bernard Shaw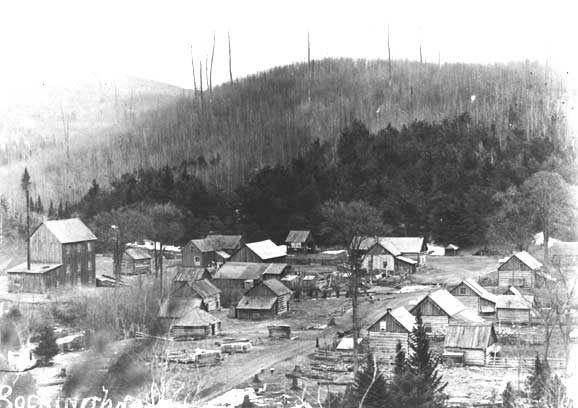 View of Rockingham Village, c. 1905, National Archives/J.S.J. Watson Collection 1997-213-117
In 1858, John Samuel James Watson departed from Rockingham Castle, in the English Midlands County of Northamptonshire, under a cloud of disgrace. The 36-year old man had married a scullery maid, Mary Martin, 14 years his junior. This alliance, so far "below his station," was just not acceptable to the Watson family who had lived at the castle, built for William the Conqueror, since Edward Watson leased the property in 1553.
The Watson clan took a practical approach to solving the problem. Legend has it that they invested £10,000 to finance John's banishment to Canada. He used some of the money to recruit a group of neighbours with the skills necessary to carve a village out of the wilderness. They made their way across the Atlantic, up the St. Lawrence and Ottawa Rivers to Farrell's Landing near Renfrew. They continued along the primitive Ottawa and Opeongo Colonization Road for about 80 km and the Peterson Branch Road for another 5 km. They then turned off for 3 km to their destination, a wooded valley containing a patch of arable soil, rare in the Canadian Shield. A turbulent creek that they named Rockingham ran through the valley, located halfway between today's Brudenell and Combermere. An 1837 survey map of Brudenell Township (part of the John Watson Collection in the National Archives) indicates occupation near Charlott[e] and Har[d]wood Lakes at this early date.
John Watson likely had advance knowledge of this desirable valley as he rejected free 100-acre lots on the Opeongo Road to purchase the site of his village. He may have obtained advice from Tom Coghlin, a logger who floated his harvest down the creek to the Madawaska River. No doubt the site was selected, in part, because the creek fell 25 feet over a waterfall, providing the waterpower that drove most frontier villages. The plentiful red and white pine, cedar, oak and maple supplied material for a busy sawmill, built alongside a gristmill. Comfortable log homes and spacious barns were soon in place; several are standing today, a testimony to the size of the first-growth trees and the skill of their builders. The backwoods community, fondly named Rockingham, soon boasted a blacksmith's shop, hotel, tannery, school, and a general store operated by John Watson who opened the post office there in 1864. In 1875, an Anglican Church was erected on land donated by John Watson and named St. Leonard's in memory of the stone church in his English home village.
It is probable that Joseph Kinder, a graduate of the new profession of veterinary medicine who had a background as a surveyor, accompanied John Watson from Northamptonshire. Ottawa Valley historian Harry J. Walker noted in The Ottawa Journal, July 11, 1970, that Dr. Kinder had an expert knowledge of the new forms of vaccination developed by Pasteur and Koch. Without attempting serious surgery, he became the physician for the settlement and families as far away as Maynooth and Cormac. Kinder married Elizabeth Marshall and they had eight children, some of whose descendants are living in the area today. Several in-laws of John Watson, the Martins, settled in Rockingham. It is not clear who else came with the Watsons, as the organized and thriving community attracted other settlers, such as carpenter Richard Acton who emigrated from England to Montreal in 1857 and moved on with his family to Rockingham. John Hudder became very unpopular when a fire he set to clear his lot got away from him and devastated a wide area of prime timber. Mail courier August Sumac lived at Rosenthal, and would ride his horse into Rockingham to meet the stagecoach from Eganville or Combermere. He would then continue on foot to Palmer Rapids.
Carl Polter [or Potter] from Hamburg, Germany, was an expert builder of log houses and was the Rockingham blacksmith. His shop, originally on the Rockingham outskirts because of the fire hazard, was dismantled by a commercial organization and erected in 1977 at the Crossroads Community Exhibit of the Ontario Agricultural Museum. It survived the trip to Milton, west of Toronto, and is now labelled "The Potter-Kinder Blacksmith's Shop," depicting a typical establishment of 1910.
Referred to by his neighbours as "famous and aristocratic" and "the congenial and benevolent founder," John Watson was present at the formation of Renfrew County and voted for Pembroke as the County Capital. He also served as Warden of Renfrew County during 1883 and 1884 and was Reeve of Brudenell Township in 1889. Rev. Ernest Lloyd Lake in Reminiscences of the Ottawa Valley writes of him as ahospitable and generous businessman a hospitable and generous businessman who acted as lawyer, banker and clergyman when community need arose. "He is pictured as an impressive figure seated in a buggy behind a spirited horse with glittering harness. John dressed in his accustomed white shirt, black tie, black suit and looked like a gentleman of the Queen's court as his snow-white hair was dramatically contrasted by his black silk hat."
By 1888, the population was about 60 and by 1899, 110. Plays directed by an early schoolmaster, Mr. Reid, attracted audiences and participants from neighbouring villages, as did dances, box socials, concerts, cricket matches and ball games. As the once-abundant red and white pine were logged out, however, the population dwindled. Farmers, disappointed that deforestation had not revealed the anticipated fruitful soil, moved to more promising land. Lumberman J.R. Booth's Ottawa, Arnprior and Parry Sound Railway was opened through Killaloe in 1894, offering an easier way of journeying "up the Valley" and diverted many travellers from the Opeongo Road and Rockingham.
John died in 1913 and his wife Mary in 1916; both are buried at Rockingham, although her death is not recorded on John's headstone. According to research by the Upper Ottawa Valley Genealogical Society, buried near him are his1859 companions, Dr. Joseph Kinder, the veterinarian who also acted as family physician, and a member of the Martin family, a relative of Mary.
"Flower Power" found the idyllic retreat during the 1970s and the village seemed destined to find its future as an arts and crafts colony. A glass blower, weaver, artist and quilt maker sold their wares and attracted visitors, but they gradually left or became involved in other activities. The general store closed years ago, but has found new life as New River Products where Richard Mielke makes speciality wooden products. Only seven houses are occupied today with a population of 21. Carrying on the crafts tradition, just outside the village, Kevin Hall makes his unique guitars, Ed Roman blows his internationally-famous glassware and Judith Crossland designs her JudyBlue denim sports gear and clothes.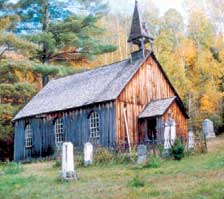 The post-and-beam St. Leonard's Anglican Church, clad with vertical pine siding and cedar roof shingles, held its last regular service in 1924 although it was not closed until 1941. The tiny congregation did not justify the payment of a minister and the cost of upkeep. On May 14, 1967, the Bishop of Ottawa performed the Act of Secularization on the church, ending its 92-year reign. The beautifully-proportioned building continued to keep watch over the village, gradually succumbing to decay until the Madawaska Association for Development Ecology came to its rescue in 1975. MADE repaired the back wall, reshingled the roof and arranged for return of the curved pews from Quadeville Pentecostal Church. Unfortunately, another period of neglect followed until its condition forced the Anglican Diocese of Ottawa to apply for a demolition permit in 1995. This spurred a group of individuals to form The Friends of Rockingham Church, Inc. who assumed ownership of the building in 1998.
The Friends raised $45,000 in cash and materials from governments and private individuals. Contracts were let, notably to Indian Creek Timber Structures, Inc., to repair the structure in 1999. It was soon restored to its original elegance. The altar rail and pulpit never left the church. The original pump organ was donated by the Langlois family and reinstalled after being rescued in the 1940s and cared for by Ellis Kinder, grandson of Dr. Kinder, and repaired by Mario Langlois. The original St. Leonard's bell, cast by H. Shane & Co. in Renfrew, was sold to the Anglican Church in Killaloe in 1945 and there it remains; a replacement was found for the restored building in Rockingham. However, all was not smooth sailing.
Indian Creek Timber uncovered extensive rot in the basic structure. With the exercise of some ingenuity, the company was able to effect repairs during 2000 without disturbing the interior panelling. They also installed new cedar shingles donated by York Valley Fine Woodworking. Other materials were donated by Murray Bros. Lumber and A. E. Quade Ltd. Crowning the Friend's achievement, the rusting steel shingles of the steeple were replaced with bright and shiny copper. In good order today, the church presides over a sleepy village with simplicity and grace evoking the lives and aspirations of the pioneer settlers. The village probably looks much like its English namesake of 150 years ago.
The Watson family is still in residence at old Rockingham Castle, although the family name recently changed to Saunders-Watson when Commander Michael Saunders inherited it and added Watson to his name. The Castle Archivist, however, was unable to trace any reference to John J.R. Watson.
Several members of the Canadian branch of the Watson family have visited Rockingham Castle, but have not been able to find evidence of John and Mary's presence. It appears that they were well and truly expunged from the records. The Canadians' pursuit of documentary proof continues, however, encouraged by an apparent willingness of the Saunders-Watsons to reinstate John in the family tree if adequate evidence can be uncovered.
Information was drawn from numerous sources including Harry J. Walker's Ottawa Valley Days in the Ottawa Journal, July 11, 1970; members the Watson family, and Rockingham resident Peggy Bridgland. The Rockingham Church is in continuing need of maintenance. Donations can be sent to Box 271, Killaloe, ON, K0J 2A0.
The author is left with a feeling of unfinished business: Is there evidence of John Watson's banishment? How did he find Rockingham? Who came with him? Why did he say he bought only 200 acres? He would like to hear from any reader who can shed light on the fascinating story.
This is an original story, first published in The Country Connection Magazine, Issue 43, Summer/Autumn 2003. Copyright S. Bernard Shaw.
To purchase this issue of The Country Connection, please send a cheque to:
Gus Zylstra, 691 Pinecrest Road, Boulter ON K0L 1G0, Canada
In Canada: $3.95 + 2.20 shipping + .80 HST = $6.95
In the USA:$3.95 + 3.80 shipping + 1.01 HST = $8.76
Reader Comments:
Your article about John Samuel James Watson and the Rockingham church is incorrect...if you check the 1861 and 1871 Canadian census (a reliable source) he himself has his born place as India and not Rockingham England...also, according to the 1851 English census, he was married to a Jane Milliner...he also resigned as a curate in the parish of Kirkburton in August 19th 1858 before arriving in Canada with Mary Martin...and according to the 1861 census...had 2 children aged 2 and 1...
Family Watts