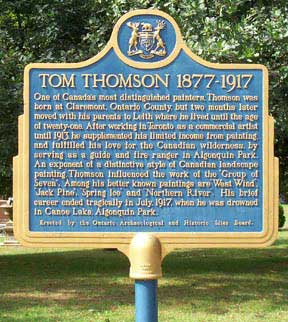 What REALLY Happened
to Tom Thomson?
by S. Bernard Shaw
It was a hot, sultry Sunday afternoon on July 8, 1917 when Tom Thomson set out in his canoe from Mowat Lodge on the west shore of Canoe lake in Algonquin Park. He disappeared behind Little Wapomeo Island and was not seen again until his body was recovered on July 16. His death sparked a series of questions that have never been satisfactorily resolved.
How did he die? Where is he buried? Who is the Indian found buried in his temporary grave at Canoe Lake?
It seems that the Indian will never be identified, and it's certain (well, almost) that Tom was buried in the family plot at the Auld Kirk in Leith, near Owen Sound, on July 21. Left for resolution is the mystery of how he died.
An endless series of theories have been advanced, none convincingly answering two key questions—why a wound on Tom's temple and why at least 16 turns of fishing line around his left ankle? Was he murdered?
It has been suggested that he was shot and decomposition disguised the bullet's entry. But Dr. Goldwin Howland, who found the body, and ranger Mark Robinson, recently returned from Flanders after being wounded at Vimy Ridge and no doubt seeing many bullet wounds, jointly described it as "a bruise. . . about four inches long."
Perhaps someone hit him with a paddle? There is a record of animosity with Martin Bletcher, an American thought to be a draft dodger (he was not), who was the only person in a position to murder Tom that Sunday afternoon. He was, however, accompanied by his sister Bessie, and it is unlikely that they collaborated in killing Tom. Anyway, why the coils of fishing line? To anchor the body, some surmise. There are better ways.
Discounting murder then, how did the accident happen? There are as many theories as there are interested people. None really answer the questions of the bruise and the fishing line. Tom was an experienced canoeist and it is difficult for even a novice to bang his head falling out of a canoe. If he fell on a rock, he must have been near the shore, but his upturned canoe was seen in deep water.
Tom was known to have hurt his ankle and may have bound a strengthening bandage with fishing line. No mention of this was made by the guides who examined his body, but they may have wound the line around a leg to anchor the body overnight. Sixteen turns, however, seems excessive. Tom was in the habit of trolling with the line tied to his ankle as he paddled along, which may be the clue to what REALLY happened.
Tom Thomson may have been killed by a whirlwind. Not one of the Kansas tornadoes that whipped Dorothy into the Land of Oz, and not one of the little dust devils we see in the summer, but something in-between.
Meteorologist Bernard A. Power witnessed such a phenomena on Lac de la Fourche in Mont Tremblant Provincial Park, north of Montreal, in 1987. Apprehensive for the safety of himself and his wife in their vulnerable little row boat, Power paid particular attention to a whirlwind that lasted only 10 to 15 seconds before disappearing as quickly as it had arrived. He remembers, "a violent whirl of spray suddenly erupted over the calm surface of the lake in a little bay about 50 to 100 feet from the shore. The violent little vortex gave off a hissing or whistling sound. The whirlwind was about six feet in height and four to five feet in diameter."
The park warden told Power that he had personally witnessed a tourbillon two or three times during his 24 years in the park. Intrigued, Power went to work and conservatively calculated that a wind of 100 mph would readily move a 175-pound man. But were winds of this speed possible?
He noted that structures are frequently damaged by relatively small dust devils, and the hissing he heard matched the sound given off by high velocity wing tip vortices from jet aircraft landing at close to 200 mph. He observed during the event that water spray from the whirlwind was similar to that whipped up from the surface by strong winds. He also calculated that centrifugal force acting on a body in a high speed vortex would be very large, as much as 200 times the force of gravity in a 100-mph wind.
Power concluded that Tom could have been surprised by a sudden whirlwind that whipped him out of his overturning canoe and whirled him around, winding the fishing line around his ankle in the process, while his flailing paddle hit his temple. He then fell unconscious into the lake to drown, the cause of demise stated on his death certificate.
Power also introduced another piece of evidence that has never been investigated: Dr. Howland noted bleeding from Tom's right ear. Power offered this as additional evidence of the vortex possibility because the bleeding could have been caused by the enormous G-forces imposed on Tom.
But do such whirlwinds invade the Algonquin highlands? They certainly do; not often, but once is enough. An informal request for information blew in one report from a hillside farm outside Barry's Bay. In 1989, Derry Mihell heard a noise in the bush and went to investigate, only to be whipped around by a strong wind that downed his terrified dog and went on to demolish his ¾-ton truck's fibreglass cap. Student Victor Solman, later a meteorologist, recorded his scary experience with a water spout on Algonquin Park's Lake Opeongo in 1936. And more recently on the same lake, Phyllis Kmith saw one estimated at over 20 feet tall in July, 2001. Brent Connolly has seen several "mini-tornadoes," 10 to 12 feet in diameter, usually in lumber yards, and has helped to clear the extensive damage from "downbursts" on the Petawawa River, near Brent. On the Great Lakes, water spouts estimated at 300 feet high have been seen. And then there are the ones unseen and unreported—like, perhaps, the one that killed Tom Thomson.
As a footnote to this story, Bernard Power suggests that the whirlwind theory could shed new light on some other cases of accidental drowning. "It may provide police and coroners with assistance," he said, "and help them avoid drawing some painful, unmerited conclusions that deaths are due to incompetence in a canoe or boat, or to negligence on the part of the victim, when in fact they may be due to a totally unexpected, and so far unavoidable, natural weather event." There have been several such deaths on notoriously windy Lake Opeongo.
The complete circumstances of Tom Thomson's death are described in the author's book, Canoe Lake.
This is an original story, first published in The Country Connection Magazine, Issue 40, Summer/Autumn 2002. Copyright S. Bernard Shaw.