IN A LITTLE SHACK, UP THE PONTIAC... Flapjack is Cookin
by Kim MacKenzie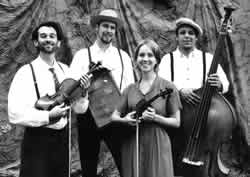 Pull up a stool on the old front porch, pick up a jug, a washboard, or a fiddle. There's corn bread cooking and the sun is setting. It is time for some old-time Canadian bush swing. Grab your banjo, harmonica, or jaw harp, add a big bass fiddle, and of course, the gee-tar. Pile on a whole lot of foot stompin' and hand clappin', for Flapjack is in town.
Flapjack is a four-piece band made up of Jay Edmunds, Karen Taylor, Teilhard Frost and Sam Allison. Now based out of an old log house near Peterborough, Ontario, their tunes are born around the woodstove in Buckhorn where they cosy-in to simmer old favourites and cook up new ones. Wherever they roam, a kitchen party is sure to spring up. Even the hardest of hearts will find their toes tapping in spite of themselves.
Flapjack is a true-blue Ontario band that is dedicated to the performing and preservation of old-time Canadian music; their music is steeped in the landscape, history and tradition of Ontario and beyond. Their love of traditional music is contagious and their songs draw you to a simpler time and a culture of maple sugar, log tows, swimmin' holes, and the backwoods of Ontario. You will smell the pine needles, taste the maple syrup, and feel the plaid flannel on your skin. The music of Flapjack gets inside you and fills you up with the spirit of Canadiana, making it impossible to sit still.
Flapjack's music tells the forgotten and unknown stories of Ontario and the people who pioneered the land, who were both tested by, and in love with, the landscape in which they were making a life. The extraordinary natural beauty of the province, from its backwoods to its wide-open spaces, lakes, rivers and trees, are woven together with the tales of the great joys and struggles of Ontario's people. Songs such as "The Opeongo Line" and "In a Little Shack Up the Pontiac" reminisce about the days of lumber camps and log tows in the Algonquin Park area.
"We are lucky to have met and talked with some old-timers in the area-their stories are incredibly inspiring. Jay wrote a song for the new CD that is based directly on a story told to us by a friend, Stan Edwards, about getting lost on the way back to the lumber camp from a dance in Marmora in the middle of winter. We are so sad that Stan just passed away and he never got to hear the song. The new CD is dedicated to his memory," says Karen. "I think the music, the traditional tunes, carries the history in some subtle way-every time they have been played for a dance, for a house party, for someone's wedding or wake, they gather up a bit of the spirit of that day and carry it on."
Bush swing is Flapjack's own name for their sound, which is old-time Canadian fiddle music, mixed with early jazz, blues and country swing. The band's repertoire is a mixture of old favourites, and their own original material written in a traditional style. Traditional Canadian fiddle tunes are borrowed from the repertoires of great players such as Andy de Jarlis (from Manitoba) and Don Messer, and songwriters like Mac Beattie.
"We play almost entirely Canadian repertoire-from traditional fiddle tunes with a long history of being played here, songs written in the early 1900s, as well as our own new material in the same style," says Jay.
"The tunes themselves originally come mostly from the Scots-Irish tradition, and from the rest of Europe," says Karen. "In Canada, the core sound was the fiddle and the use of the feet percussively while playing. There is a fusion in Canadian traditional music between the Scots-Irish, the old French music, Eastern European and Native North American influences, in different mixes depending on whether you're in the Ottawa Valley, Manitoba, Newfoundland, or northern Quebec."
Flapjack is a busy band, with a jam-packed touring schedule that takes them all over Canada and the United States, playing concerts and festivals from Ontario to Massachusetts, from Alabama to Kentucky and North Carolina. They also play for dances, weddings, and wakes.
"I like to play at home," says Teilhard. " It gives us a chance to share the music and dance, which is such a large part of Canadian tradition, with fellow Canadians who may have never experienced it first hand. When we sing the songs and retell the stories, I feel it brings people together. We are part of a long line of fiddlers and storytellers who have travelled the land, warming up the long winter nights and tempting people to watch the sun rise on a fresh July morning."
Playing for dances, the band's first love, allows them to get back to the roots of the music and the reason it all began. Although most people's vision of square dancing consists of awkward, sweaty torture sessions in high school gym classes, there has recently been a huge revival of Square Dance (or Contra Dance in New England terms) throughout the U.S. and Canada.
"It is a lot of fun. The music being played for these dances is some of the most innovative acoustic music created today, and it's a wonderful way to meet people and create community. There is a gigantic, vibrant subculture out there," says Karen.
The band is also doing its part to introduce new fans to the joys of traditional music and dance, without the awkwardness, by playing dances for beginners. "It's always a blast. Anyone can do it-there's a caller who teaches the dance and calls the moves as you do them...it's very accessible."
It is true-you cannot help but feel the urge to kick up your heels only a few bars into a lively fiddle tune, when the sound of the washboard is scratching away, the jaw harp is sproinging, and the harmonica is singing. Close your eyes and you'll find yourself back in a one room schoolhouse with a weatherworn wooden floor, kids, uncles and grandmas stompin' up a storm, do-si-do-and-loop-da-looping, laughter and warmth and fun in the air. The callers bark out the steps and next thing you know everyone is clapping and knee slapping, and the dance is in full swing.
You need only hear Flapjack play a few songs to know that each of the band members holds a very personal connection to traditional Canadian music. Each song holds a flavour of its own personal history. Teilhard Frost, the band's percussionist, is a Manitoulin Island boy, and fell in love with the fiddle at age four.
"Lyle Dewar was a big influence on me. He used to play sitting on the arm of his couch and I thought that was great. He was 'ooold-time'! My mum would never let me play like that. Rudy Meeks out of Orillia was also a big influence. We had some of his records, and I would sometimes visit with him at his shop which was always full of fiddles and fiddlers."
Frost works magic with a washboard, bones, harmonica, jaw harp, and his well-worn boots. In fact, it is said that he can jam with anything he lays his hands on. He has been put to test on this claim; he's even been known to make music with cheddar cheese and a plastic water bottle.
"It met with limited success," he grins, but reminds us that we can't take for granted just how incredible instruments, such as the fiddle, really are. "In the words of Jamie Snider, a fiddle is just 'horse hair, strings and an old pine box' and look where it has got us!"
Sam Taylor, the band's bassist, has a deep love for all forms of folk music, and has long revered such greats as Stompin' Tom and banjo player Uncle Dave Macon. Sam sees the music as an expression of regular folks and the ways that their lives and stories change over time.
"I love music that is a product of everyday life and is a perpetuation of the idea of the development...of peoples in relation to the passing of time and events."
Sam was the unsuspecting inspiration for the name of the band, as well as their newest CD.
Jay explains, "I was busking in the Toronto subway a few years ago and this fellow came along with a stand-up bass and started jamming with me. He told me that he was studying jazz and working as a chef. That night I had a dream that he was flipping pancakes in a roadside diner called Happy Slappy's Flapjack Hut-which is the title track and name of our new CD. Of course, that bass player was Sam, who became the fourth member of the band shortly after that subway jam session…and Flapjack became the name of the band."
Karen Taylor and Jay Edmunds provide lead vocals and fiddle, and are the creative force behind Flapjack. Jay spent plenty of time in the Ottawa Valley as a child, and has always held a fascination for playing the music of his own roots.
"My interest was first piqued by my mentor, Jamie Snider, who continues to be a great influence. It has always really appealed to me to play the music of the place I come from. All through my childhood I spent summers in the Ottawa Valley, so the music of that area has a particular resonance for me."
Karen, too, holds a deep personal connection to the stories and the songs of the old times.
"I love Canadian history-not so much the dates and battles and political developments, but the social history-people's experience of day-to-day life and how it has changed. I live in an old square timber house from the 1860s off in the woods, with no television and plenty of instruments...when we're not touring, we are in a place where it is easy to dream and imagine and drift back into the feel of earlier times."
Karen trained in classical violin as a child, but a bad experience at a music camp had her firmly hanging up her fiddle. Luckily, however, after hearing someone playing fiddle music "the way it was meant to be played" at a party ten years ago, she became hooked on the sound.
"There is a drive, a pulse, a hypnotic rhythm in fiddle music that I'd never been able to feel playing classical music. When I heard the fiddler at that party, I hadn't played for a very long time, but I dusted off my grandpa's violin and started up again."
And thank goodness for that. In rural areas, traditional music is alive and well. Teilhard grew up on Manitoulin Island, where "if you don't like old time music, you're out of luck." In small towns all over Ontario, traditional Canadian fiddle music is coming back.
"There are still a lot of jams and sessions where people get together to play fiddle tunes from Ontario, and there are lots of kids interested in learning fiddle music which is a good sign," says Karen.
The band began however, as they realised that opportunities to hear and play old time Canadian music were becoming more difficult to find. "There aren't as many old-time dances as there used to be in Ontario, which was one of the things that gives the music reason to go on," laments Karen.
The idea for Flapjack was born when Jay decided to make it his mission to play and preserve this timeless, lively aspect of Canadian culture. "I first learned to play the fiddle from Jamie Snider, who grew up in the Ottawa Valley and later lived in Newfoundland. He taught me all these great old Canadian tunes. No one else I knew was really playing them, either in sessions or in performance. It became my mission to get a band together to share this wonderful, underplayed music."
And so it was that Flapjack came to town. So close your eyes and hear a tune—slap your knees and tap your toes. Drift back to a simpler time of taffy pulls and hayrides, swimming in the creek and banjos on the back porch. The stories, landscapes, and traditions of old-time Canada live, as Flapjack plays on.
This is an original story, first published in The Country Connection Magazine, Issue 43, Summer/Autumn 2003. Copyright Kim MacKenzie.
RETURN TO STORY INDEX

RETURN TO BACK ISSUE PAGE