Foymount
by S. Bernard Shaw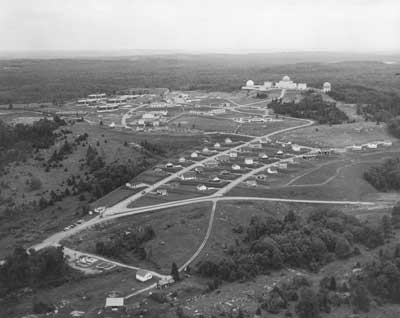 Photo: Canadian Forces Station Foymount in 1965. The administration complex lies between the three radome "golf balls," top right, and the barracks, top left. Scattered down the mountain are the married quarters, each with a "million dollar view," to the guard house, bottom left. National Defence PA74-121
Claiming to be the highest point of human habitation in Ontario at 523 metres, the hamlet of Foymount has experienced a series of disastrous fires, played a major role in the Cold War, and impersonated a Bosnian village. It has endured an embryonic industrial park and resort that almost precipitated Sebastapol Township into bankruptcy. At last, it is settled in its current comfortable role as a sleepy Ottawa Valley village, supported by a thriving manufacturing operation.
Foymount took its name in 1873 from the founding postmaster John Foy whose post office and stopping place were located on Hwy 512 about one kilometre west of today's village. The mountainside, now known as Foymount, was at the time farmed by the Foran family, but the whole area became identified by the postmaster's name. Both families have descendants living in the area, but one Foy, Martin, went to Minnesota about 1871 and wrote of his experiences, "I cannot say much in praise of Canada or its people. In the first place, I never saw any part of eastern Canada that was not sand, flat rock or paved with stones." His complaints are chronicled at some length by Father T.P. Hunt in The Story of Cormac and Martin highlights the lack of cash at that time: "Many a faithful day's work I done in Sebastapol and carried away mighty little for it." On the other side of the equation, Martin should now see the idyllic, modern home of Lorne Foran nestled beside Clear Lake that must rival anything to be found in Minnesota-or anywhere else in the world, for that matter.
The mountain abandoned by Martin Foy is certainly rocky, but lumbering and hard work sustained a farming community until jobs and cash were injected into the community in 1950 in reaction to the Soviet demonstration of nuclear weapon delivery capability. Two years of construction created a self-contained air force radar base with a population of more than 400. This vital link in the Pinetree Line, North America's last line of defence, had all the comforts possible-curling rink, swimming pool, bowling alley, gymnasium, church, hospital, married quarters, and water and sewage systems. Ski trails were cleared and nearby lakes offered every opportunity for water sports and relaxation. Surmounting the complex were three huge fibreglass geodetic spheres, invented by Buckminster Fuller, housing the radar that would warn of incoming missles.
The military just walked away, leaving everything behind, even cups neatly stacked in the cafeteria and tools lying where they were dropped. Supporting the radar systems were the infamous Bomarc missiles, purchased in replacement for the cancelled Avro Arrow interceptor, installed at North Bay, Ontario, and La Macaza, Quebec. The Pinetree radar went the way of the dodo, however, with the advent of satellite surveillance and guided missiles. The Foymount station closed on September 1, 1974; with it went 90 civilian jobs and a payroll of some $2 million per year.
Entrepreneurs Fred Ginn and John Van Gastel seized the opportunity and purchased the 737-acre site, literally, "lock, stock and barrel," for $351,000. They acquired 45 homes, five barrack apartments, recreational complex and all the associated buildings, including three huge diesel generators. The military just walked away, leaving everything behind, even cups neatly stacked in the cafeteria and tools lying where they were dropped. There is, unfortunately, no truth in the rumour that a BMW was abandoned in the garage.
Imaginative and ambitious plans were touted for an industrial complex and a hotel-convention centre. A nightclub, The Three Barrels, was to be built in the three radomes (radar domes). Houses were sold for as little as $2,000. One thousand people were expected to work there. The peak was reached in the mid-70s with a population of almost 200 and four industries employing 45 people.
Rumours and accusations still simmer about how and why "Foymount Estates" failed, but assets were gradually sold. The three 55-foot diameter plastic radomes were purchased by Stuart and Anne Hiles and installed as barns on their farm located alongside Hwy 17, west of Cobden. One remains there, one was damaged in a storm and the third went to the Communications Research Centre at Shirleys Bay in 1983. Canadian Space Services of Carp installed the radome, replacing damaged sections with parts from other Pinetree radomes, as a test facility for SHARP. (The Stationary High Altitude Relay Platform project was investigating the feasibility of beaming microwave energy to an unmanned aircraft orbiting at 70,000 feet and reflecting communications for long distances.) SHARP was abandoned, which is a pity because it may have forestalled the need for all the communication towers now littering Foymount and much of rural Canada.
The clincher for Foymount Estates came in 1980 when the developers announced that they were unable to pay the $12,000 owing for electricity necessary to operate the community's water and sewer system. In 1983, the recreational complex, designated "The Fun Centre," but unused for two years, burned. This left the struggling township with an additional $3,000 clean-up bill. Ironically, the disastrous fire was a turning point in the fortunes of Foymount. Lifelong resident of the area, and at-the-time Township Clerk-Treasurer Vivian Rosien, says that the years of setbacks and disappointments seemed to dissipate after the blaze and a quiet revolution started.
The township bought a $66,000 pumper firetruck, and Hwy 512, the village's main access road, was upgraded and the residents began to spruce up their property. Of considerable help was the provision of senior government funds to help residents install their own wells and septic systems.
Toronto businessman Richard Gulland was the angel who rescued Foymount from industrial oblivion. He purchased a 15,000-square foot barracks for $4,000 in 1982, moved in Black Water Designs Limited and started to manufacture outdoor clothing and equipment under licence of Sierra Designs. Although it was eventually the only business on the mountain, it prospered, and with nearly 70 employees, it was the largest employer between Pembroke and Renfrew. A second building was acquired for a factory retail outlet that still draws a steady stream of visitors.
Richard Gulland sold Black Water in 2002 to the Barrett Corporation, a diversified conglomerate with international connections. Corporate spokesman Chet Gulland (son of Richard), Marketing Coordinator for Sierra Designs, notes that Barrett, headquartered in Woodstock, New Brunswick, felt an affinity with rural manufacturing operations and appreciated the quality and market appeal of the Sierra products. He speaks enthusiastically of plans to expand the product line at the retail store with associated items, such as footwear, that should attract more customers to the mountaintop store. Black Water now occupies four buildings and employment reached 100 during the summer of 2003. The retail store is open from 9 to 5 from Monday to Saturday and 11 to 5 on Sundays during the summer, and on winter weekends from 9 to 5. It opens all holidays (except Christmas Day) from 9 to 5.
In July 1996, the CBC saved itself the expense of a trip to Europe by turning Foymount into a Bosnian village. For a few years in the late '80s, Foymount residents Dianne and Steve Bunyak operated a restaurant, appropriately named The Guard House at the entrance to the village. But that, too, was destroyed in a fire. Fortunately, for tourists and visitors to Black Water, Vivian Rosien and two partners satisfied a need in 2002 with the Whip-Poor-Will tea room and gift/craft gallery. Closed on Mondays and Tuesdays, the tearoom is open from 10 to 4 daily, 11 to 4 on Sundays. It can seat up to 50 people, a capacity sometimes strained during the fall colour season. Special evening dinners, such as for Valentine's Day, are invariably sold out. More than 30 different teas are offered with "decadent deserts." After apple dumpling smothered in taffy sauce, a walk is recommended around the mountaintop, where the foundations of the radar station remain, to admire the unique view.
In July 1996, the CBC saved itself the expense of a trip to Europe by turning Foymount into a Bosnian village. Spending $3 million for a two-hour docu-drama, Peacekeepers, the CBC brought in a crew of 100 including technicians and actors and 20 real soldiers. Local residents were canvassed for old mattresses, bicycles, toys, dolls, etc. that were scattered in front of houses realistically modified with doors hanging from their hinges and broken windows, fire damage and riddled with "bullet holes." Even roofs were covered with plastic imitations of European tiles. One house, constructed for the purpose in three days, was blown up in three seconds. As the Eganville Leader reported, "Despite its many setbacks, Foymount had never looked worse." Most local residents enjoyed the 10 days of excitement, especially those paid and fed as "extras."
About 5 kilometres to the south of the mountain, are two lakes: the nearer named Britches and the larger one, alongside Hwy 515, Britchless. Behind the names must be a story. Mildred Drefke has a plant nursery alongside Britchless Lake and her parents lived in the area for many years, but, like all the other residents, she denies knowledge of how the lakes came to be named. But she does admit that she often swam in Britchless.
Members of the Sebastopol Heritage and Historic Society provided much of the information for this article. The very active group is responsible for the many helpful signs in the area and maintains a museum, The Stopping Place, on Hwy 512 at McGrath Road, open from June to October on Saturdays from 10 to 4, and Sundays from 1 to 5. In July and August, the museum is also open from 10 to 5 from Tuesday to Friday. For more information, phone the society secretary at 613-754-2009.
This is an original story, first published in The Country Connection Magazine, Issue 44, Winter 2004. Copyright S. Bernard Shaw.
To purchase this issue of The Country Connection, please send a cheque to:
Gus Zylstra, 691 Pinecrest Road, Boulter ON K0L 1G0, Canada
In Canada: $4.95 + 2.20 shipping + .93 HST = $8.08
In the USA:$4.95 + 3.80 shipping + 1.14 HST = $9.89